Mark and Christine have been married for over twenty years and have two children. They joined the staff of Agapé in 2003 to lead the FamilyLife ministry in the UK. Prior to that Mark had careers in the army and in Hi-tech and Christine in banking. They have been involved in marriage ministry and led small groups for ten years. Their vision is to give every person in the UK the opportunity to see their family lives transformed through biblical principles and knowing Christ.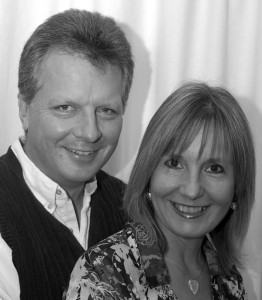 Mark: When I first met Christine I thought she was gorgeous and I tried very hard to impress her. When the jokes didn 't work, I pulled out all the stops and took her out for a meal…
Christine: When I first met Mark I thought he was James Bond! He whisked me off on our first date on the back of his enormous motorbike and he looked very sexy in his leather jacket. We were the last to leave the Italian restaurant that night. Three years later we were married.
Many books and films would end the story at this point with…'and they lived happily ever after'. Those of us who are married know that falling in love is easy, but building a strong and flourishing marriage takes effort. In the early years we had our ups and downs and muddled along, just like many other couples. It was only after ten years of marriage that our relationship started to change, when we joined a small group to study what the Bible had to say about marriage. We – the Daniels – began to communicate in deeper ways, to express our love for one another even when we didn't feel like it, and to resolve conflicts and forgive each other in a new way. Only then did we see that we had been gradually drifting apart.
As we began to understand and apply God's view of marriage, our relationship experienced a transformation. We wanted to share these benefits with other couples, and so (with lots of encouragement and support) each couple from the original group started other small groups with a view to helping marriages.
Years later we began to develop 'Together'. This material is the result of three years of development, born out of some 10 years experience in leading small groups for couples and based on many of the principles taught by FamilyLife© in their HomeBuilder© couples series. It has been tested by dozens of couples across the country. Together does require significant commitment, but if you would be willing to dive into the experience as a couple, we are confident you will find that, over the nine sessions, God will make a difference in your marriage which will be visible to all.
Our dream is that groups would multiply throughout the UK and that many couples would experience the grace and power of God in their marriages.
Mark & Christine Daniel