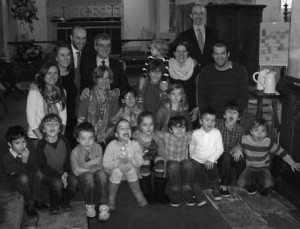 This December John and Kate will celebrate 40 years of marriage. However, they are well aware that a good marriage doesn't happen by accident, it needs to be nurtured. This is partly what motivated them to lead Together small groups in their community.
Kate explained: "Marriage is a key relationship that, when working as God designed it, helps keep families (adults and children) wholesome and healthy. That then has a direct effect on the society around us. We have MOTs for 3 year old cars, we have 'well man' clinics, 'well woman clinics, but we don't have marriage clinics. Together seeks to address this: taking biblical principles of what it means to walk with God, and how that works in marriage; investing in relationships, recognising and dealing with conflict, how to use our differences to build a stronger relationship, how to bring up difficult topics – all these and more are covered in Together."
Having decided to start a group John and Kate drew up a list of couples in their church and asked them personally. John: "We also publicised the course and invited interest. Over the next couple of years we did two courses, each with 6 couples – including us." Kate thinks that a social element is an important part of being in a group, explaining: "We met in homes, and started with puddings and desserts. It was great to see couples getting to know other couples as a result of doing the course together."
They met every 2-3 weeks and couples took turns in leading the study. John: "The output of the course does depend on how seriously couples take the couple time in between each group."
One of the couples will be starting their own group to pass on the benefits. John and Kate believe that it's essential to keep investing in our marriages and after nearly 40 years I guess they should know. Marriage and family life clearly matter to them with all 3 of their own children married and 13 grandchildren between them.
Kate: "It is always beneficial to go over principles for a good relationship. We are all a bit like colanders – we leak and need reminding of the important things."