FamilyLife UK's bible based resource for small groups of couples – TOGETHER – IS now in 11 languages and changing lives and marriages across the world.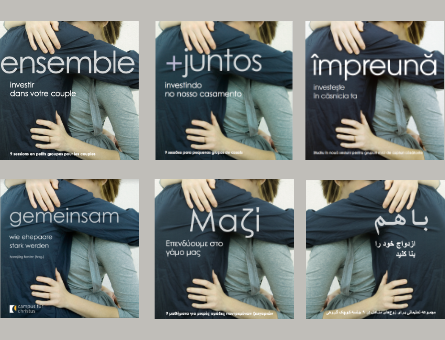 The first translation into German took place in 2011 and is widely used in Germany and Switzerland. This was followed by translations into Dutch, Portuguese, Spanish and Greek. The Spanish version was also introduced into Cuba and the Dutch translation is being used in Surinam. By the end of 2019 there were 37 groups in the Netherlands and over 350 couples benefiting.
In the last few years Together was translated into Romanian, French, Italian and Lithuanian. The introduction of the new translations made for some interesting groups in some parts of Europe, where some couples meeting in the Netherlands spoke English when they met together, but used notebooks in Dutch, English and French. Tiny Boer, FamilyLife Netherlands, explained that each person liked to have their own copy in their 'heart language'.
Together in Farsi was published in 2020, for Iranian couples and Farsi speaking people in many other countries. A Russian translation is underway, Olexiy Travnikov who leads FamilyLife in the Ukraine says: "It is the best marriage material I have ever used."
Biju Georgekutty, part of the FamilyLife team in the UK, together with his wife Sissy have started a number of groups in Liverpool and also online. One couple has joined their online meetings from India and a translation into Hindi is being discussed. Biju and Sissy say:
"We would say Together is a fantastic tool to support and strengthen your marriage. You can learn a lot about yourself and as a couple. It will have a positive impact on your marriage. So, we would highly recommend every couple to join and benefit from it."
CONTACT US for more info about purchasing Together in other languages